Managed services and outsourcing are often used as synonyms. However, there is a major difference between the two. Managed Services Providers (MSPs) provide on-demand support and offer a range of benefits, from cost reduction, scalability, and access to specialized expertise to better organize, operate, and safeguard businesses. As a result, many banks and financial institutions are turning to managed services as a more strategic response.
This blog explores the differences between managed services and traditional outsourcing, discussing how banks could benefit from managed services. It provides insights on how to choose a managed services provider for banking operations.
Traditional Outsourcing in the Banking Industry
Historically, banks have relied on various outsourcing models to maximize their resource efficiency. These models have evolved from business process outsourcing (BPO) to cost mutualization.
While cost reduction remains a key driver for outsourcing decisions, firms are now also seeking specialized knowledge and long-term partnerships to manage critical processes that require vast internal and external resources, drive innovation, and maintain a competitive advantage.
However, traditional outsourcing models may no longer be suitable for banking operations due to high risks and the need for close integration with the organization, such as compliance, which costs the banking industry nearly $270 billion annually. Meeting regulatory compliance demand alone costs ~10% of the operating costs.
It is estimated that banks have spent ~$200 billion on consulting services post-financial crisis for regulatory compliance.
Evolution from Traditional Outsourcing to Managed Services
Managed services represent the next stage in the evolution of outsourcing. It refers to the strategic partnerships that are built on experience-driven and outcome-based relationships. These collaborations emphasize a high degree of operational integration and scalability, harnessing specialized domain skills, process expertise, and technology intervention offered by the managed services partner.
Unlike traditional outsourcing, managed services providers help financial institutions leverage their expertise, resources, and infrastructure to streamline operations, enhance efficiency, and achieve specific goals, all while maintaining a strong focus on delivering valuable outcomes and compliance.
It also helps banks and financial institutions:
Address deficiencies and challenges related to hiring, onboarding, and training of internal talent
Improve process quality
Adopt emerging technologies to keep up with market trends
Managed services also provide access to the latest technologies and knowledge base that can help banks improve the outcomes for critical risk, regulatory, cyber, legal, and compliance operations.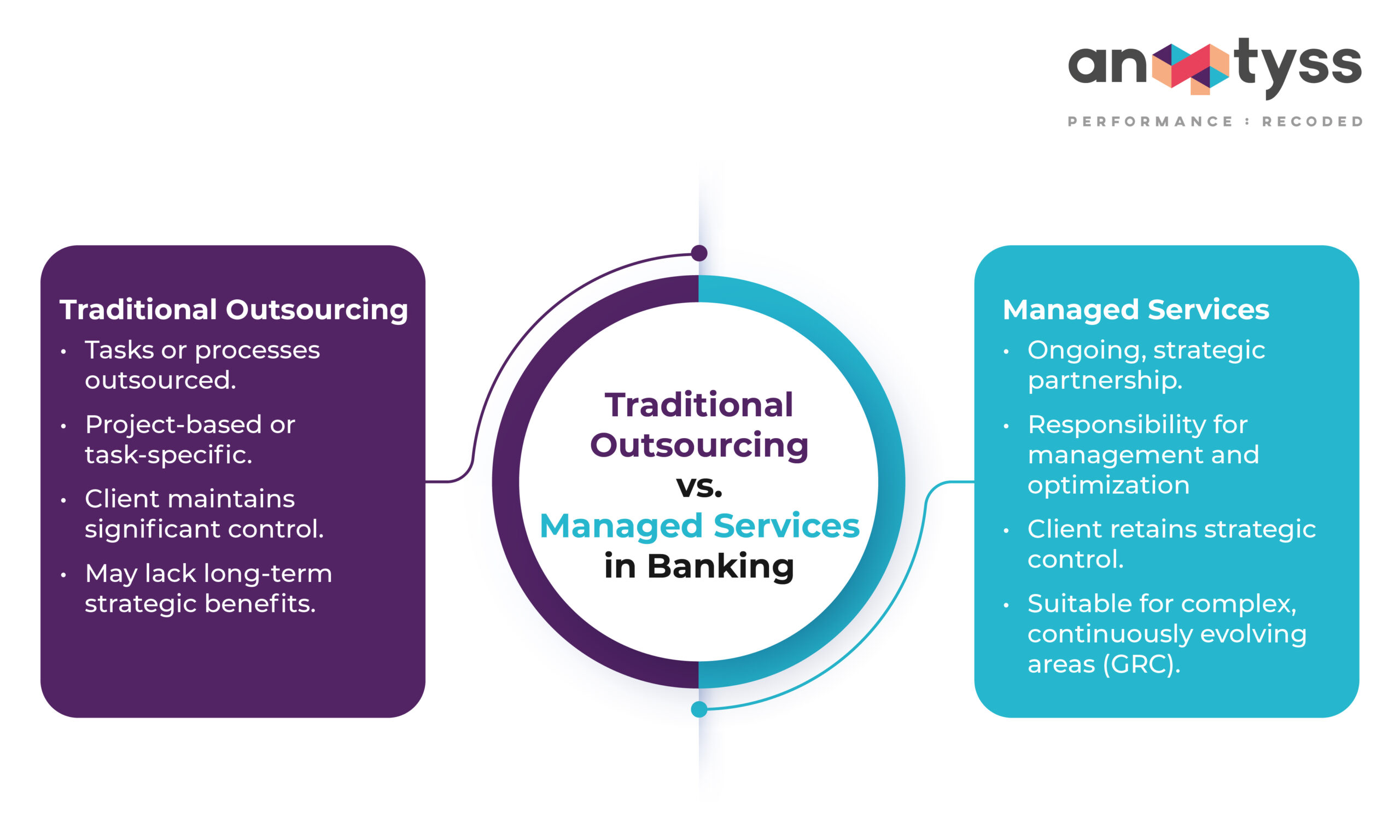 Benefits of Managed Services in Banking
Managed services play a crucial role in streamlining financial services by providing a range of solutions and services that help financial institutions better optimize and operate their businesses.
Immediate Access to Domain Expertise: Managed services offer specialized knowledge, expertise, and talent at scale to solve complex problems and meet fluctuating market demands. For example, internal control testing is one of the areas where banks can leverage specialized talent and expertise to identify weaknesses and manage enterprise risks.
Outcomes-Based Delivery & Value-Based Pricing: The managed services partnership model emphasizes collaboration and outcomes-based pricing, where service providers have a vested interest in achieving the desired outcomes for their clients.
Improved Project Control and Manageability: Managed services model provides closer integration with the organization, allowing for greater control and collaboration compared to transactional outsourcing models.
Scalable Operations to Support Ramp Up/Ramp Down: Financial services can leverage scalability with this model, which is an effective solution to address demand fluctuations across markets and time frames.
What to Look for in a Managed Services Provider?
When it comes to choosing the right managed services provider for financial services, the stakes are high. It's one of the most crucial decisions to make that can elevate your operations, enhance security, and drive growth.
Although cost is an important consideration, it should not be the sole determining factor. Instead, organizations should focus on:
Strategic fit
Level of investment
Global consistency
Domain and regulatory maturity
A well-structured partnership with a managed services provider can provide access to innovative technologies, deep industry knowledge, and a scalable global delivery infrastructure.
Below are the 5 key considerations when it comes to choosing managed services providers for financial services:
Industry expertise and experience
Technology capabilities
Data security and compliance
Scalability and flexibility
Support
To illustrate the potential benefits of managed services, here's a case study that outlines how Anaptyss helped a community bank commission a fully automated digital knowledge management and e-learning center of excellence with a 100% updated knowledge repository and 1900+ digitized business process blueprints.
Conclusion
As banks and financial institutions continue to face regulatory and market challenges, managed services offer a strategic response to achieve cost efficiency, enhance compliance, and strengthen risk management capabilities. The potential rewards of adopting managed services are significant, from cost efficiency to access to the latest technologies and expertise. Managed services provide a strategic solution for banks to navigate the challenges of risk management, compliance, and operational efficiency in an increasingly complex and dynamic industry.
Interested in learning more about the managed services for banking operations?
Write to us: info@anaptyss.com.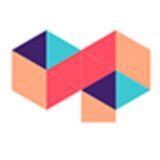 Anaptyss Team
Anaptyss is a digital solutions specialist on a mission to simplify and democratize digital transformation for regional/super-regional banks, mortgages and commercial lenders, wealth and asset management firms, and other institutions. Its Digital Knowledge Operations™ framework integrates domain expertise, digital solutions, and operational excellence to drive the change.