Claims management is a complex process that involves several steps, from claim submission, investigation, and assessment to negotiating settlement and disbursal. A well-managed claim can make a huge difference and define a hassle-free insurance process or a prolonged, frustrating one.
The ultimate goal of claims management for insurance companies that cover property and casualty (P&C) or life and annuities (L&A) is to find ways to ensure that legitimate claims are settled promptly, efficiently, and accurately while reducing the costs of handling the insurance claims.
To achieve this, more and more insurers are figuring out efficient ways to streamline their business processes, prevent fraud, provide superior customer experience, and reduce indirect and direct expenses on claims settlement.
This blog explores some common challenges in claims management and shares some key strategies that insurers can apply to streamline their claim management processes and reduce costs.
Common Challenges in Claims Management and High Claim Cost
Paying out claims to policyholders is one of the most significant expenses for insurance companies. In addition, the claims management process often involves multiple claim situations and several challenges that can cause a delay or error in the claim approval/disbursal process, damage the insurer's reputation, and increase the cost of claims. These challenges include:
1. Fraudulent Claims
Insurers lose billions of dollars every year globally due to fraudulent claims. It's one of the major challenges that can also increase costs due to investigation expenses, administrative expenses, operational disruption, etc.
2. Inefficient Claims Processing
Inefficiencies in the claims process can lead to delays, increased costs, and customer dissatisfaction. These inefficiencies can occur due to a lack of process automation, legacy systems, and multiple fragmented touchpoints.
3. Scarcity of Trained Professionals
With advances in technology and medicine, regulatory changes, customer expectations, etc., claims are becoming more complex and require specialized expertise and highly skilled staff to handle the processes.
4. Fragmented Touchpoints and Lack of Transparency
The First Notification of Loss (FNOL) is the first step in claims processing, wherein the policyholder shares the information about the incident with the insurer. The claim information is transmitted back and forth between claimants, insurance companies, adjusters, and attorneys, which can lead to delays and impact both the insurer and the customer, who may feel a disconnect and lack of transparency. The lack of a unified data platform is the primary technical reason that hampers information sharing among all stakeholders.
6 Key Strategies for Efficient Claims Management
Effective claims management requires a combination of strategies to ensure that claims are handled promptly, efficiently, and accurately.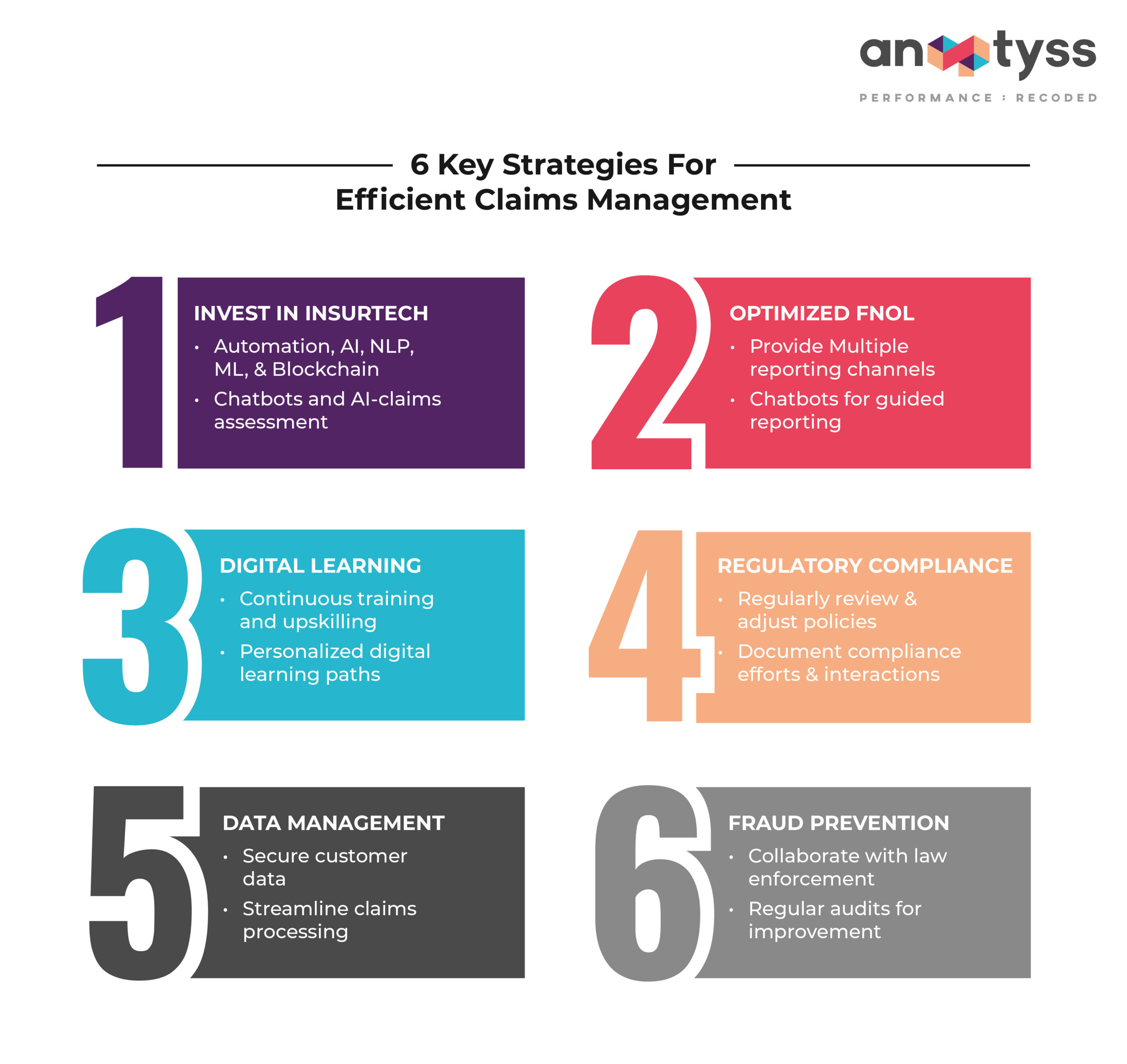 1. Invest in Insurtech
Insurance technology solutions can help streamline the claims management process. These include technologies such as automation, advanced data analytics, AI, NLP, and ML. They can help reduce errors, improve efficiency, and decrease administrative and operational costs involved in managing claims. Some examples of insurtech in claims management are:
Chatbots and virtual assistants for real-time (24/7) support
AI-Claims assessment to quickly and accurately assess claims
Automation, such as Robotic Process Automation (RPA)
Blockchain to improve transparency and security of claims data
Documentation digitization with natural language processing (NLP) and optical character recognition (OCR)
Auto-generated analytics dashboard for real-time insights into claims portfolio
2. Optimize First Notification of Loss (FNOL)
Customer experience is a critical part of claims management. It can affect the reputation of the insurance company based on the FNOL process, which sets the tone for the entire claims experience.
Therefore, insurance companies in P&C or L&A must consider enhancing the FNOL process. For this, they can:
Offer multiple channels for reporting claims, such as phone, email, and online forms.
Leverage chatbots or virtual assistants to guide policyholders through the initial reporting process and gather essential details.
Enable policyholders to track the claim progress through secure online portals.
3. Continuous Training and Upskilling with Digital Learning
Insurance companies need to invest in continuous training and upskilling programs to educate their claims professionals and ensure that they acquire the necessary relevant skills and knowledge to handle complex claims accurately and efficiently.
Insurers can leverage digital learning or eLearning courseware for workforce training and upskilling. For instance, Fluent, a proprietary digital learning and knowledge management solution allows employee training through personalized learning paths at their own pace with 24/7 access to learning materials.
4. Dealing with Regulatory Complexity
In the world of insurance, there's a complex maze of rules and regulations, and these rules can vary from place to place and depending on the type of insurance. Making sure we follow all these regulations can be quite a resource-draining task, and if we don't get it right, we could face legal trouble and financial penalties.
5. Protecting Data Privacy
Insurance companies handle a ton of personal and sensitive customer data, which can make us a prime target for cyberattacks. Ensuring that this data stays safe and private is a major concern for us. Plus, effectively managing and making sense of all this data to make our claims process smoother can sometimes be a real challenge.
6. Minimize Fraud
Scammers and fraudsters involved in organized crimes often target insurance companies in P&C due to the low-risk and high-gain market. To minimize fraudulent claims, insurance companies must:
Use fraud detection solutions to prevent direct and indirect monetary losses and improve profitability.
Collaborate with law enforcement agencies for quicker fraud detection and prevention.
Set up red flag indicators to trigger alerts for potentially fraudulent claims.
Use external fraud databases/services and cross-reference claims to detect fraudsters.
Monitor regulatory requirements to stay updated on insurance regulations related to fraud.
Conduct regular audits to test controls and identify weaknesses for continuous improvement.
Aside from these strategies, insurance companies must invest in the requisite legal expertise to handle claims-related litigation and manage the costs associated with it.
Conclusion
For insurance companies, nothing could be better than processing claims quickly as they hear about a casualty, and they know that the claim is not fraudulent or made up and dishonest. A well-managed claims process can enhance customer satisfaction, reduce costs, and increase profits.
By partnering with a managed services provider (MSP), insurance companies can get access to global talent, insurance technology (insuretech), domain expertise, and infrastructure. A strategic partnership can go a long way and help insurers quickly ramp up or ramp down their capacity by onboarding, training, and upskilling the workforce, including agents and brokers.
A managed services partnership model can improve claims management, free up the in-house resources for more critical tasks, and reduce costs. This in turn can enhance customer satisfaction, which is critical for the company's reputation and long-term success.
Want to learn more about how to streamline claims management processes and reduce costs while delivering top-notch customer services?
Connect with us: info@anaptyss.com.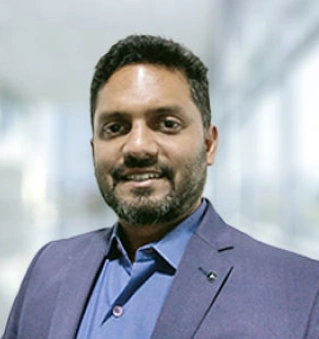 Leander Fernandes
Vice President - Operations
Leander Fernandes is a seasoned professional with over 23 years of experience in Operations, Transition, Solutions, Customer Relationship Management, and Program Management. His domain knowledge encompasses Insurance, Annuities, Healthcare, and Collections, reflecting his deep industry knowledge.