Reconciliations are critical processes banks need to perform to check and ensure that the financial statement of a company matches with its balance sheet in terms of the opening cash balance, transactions, and closing balance.
This "reconciling of records" aka reconciliations management is crucial to understanding the actual account balance (cash flow) vis-à-vis the data that got recorded/captured in the balance sheet. Reconciliations also help banks detect potentially fraudulent transactions such as money laundering and are therefore mandatory for meeting the audit and compliance requirements.
However, the reconciliations processes — being a manual undertaking that often spreads across multiple locations, teams, and departments — are fundamentally inefficient and error-prone. Also, the financial records and results of the process can be ambiguous due to inadequate visibility of the disparate and fragmented data and data sources.
These reconciliations management issues boil down to two problems, namely high costs of operations and reputational/legal risks that continue to loom due to any potential violations of regulatory standards.
How do banks overcome these issues?
Digital Knowledge Operations (DKO™): A Digital-First Approach for Efficient and Effective Reconciliations
Digital Knowledge Operations or DKO is a proprietary "solutions framework" designed by Anaptyss for driving digital transformation in the banking and financial services industry. However, it is fundamentally different from the cookie-cutter approaches to transformation in several ways, as follows:
1. DKO is a Pragmatic Approach
Unlike theoretical propositions and proof of concepts, DKO-led transformation projects are based on realism and practicality. In other words, it transforms the business operations in an observable and quantifiable way that can be substantiated with data and business outcomes.
2. Customizable by Default
DKO offers out-of-the-box customizability to meet the specific/unique needs of a financial institution based on its segment, offerings, circumstances, budget, scale, etc. It is designed to enable tailored transformation that can include a very specific aspect of a process or processes, a complete process(es), an entire department, a business unit, and multiple-locational service centers.
3. Cost-Effective Transformation
DKO combines the pillars of consulting, digital solution implementation, and operational support (managed services and talent pool) in a "unified package", offering cost-effectiveness and cost optimization from the get-go.
Let's understand how the Digital Knowledge Operations framework transforms reconciliations management.
Consulting, Intelligent Automation, and Delivery Capabilities: The DKO-Led Approach to Enabling Failsafe Reconciliations
The approach is based on remodeling the operational aspects, re-engineering the processes, and automating them using digital solutions. Additionally, it deploys a managed services model to support and streamline the delivery especially if the reconciliations processes are executed across multiple locations and departments. Here's an outline of the approach:
1. Process/Systems/Policy Consulting:
Anaptyss allocates domain specialists to evaluate the existing reconciliations process and capability in the context of the bank's overall needs. These domain consultants collaborate with the client-side analysts to determine the gaps and recommend remedial measures such as process re-engineering, remodeling, solution mapping, etc.
2. Digital Solution Implementation
This aspect looks into automating the manual processes and digitizing them for more resilient and dependable records reconciliations. For example, the DKO approach might implement robotic process automation and cloud storage to speed up the reconciliations processes and increase data transparency, accessibility, and manageability.
Another real-world example of transforming reconciliations is based on using data analytics and a SMART reporting dashboard that provides real-time insights to support decision-making and compliance needs.
Anaptyss assigns implementation experts who deploy the solutions stack based on the recommendations arrived at from the consulting phase.
3. Managed Services
: Scalable and global service delivery is a unique feature of the DKO approach, which allows banking and financial institutions to get on-demand support for their operations. There are multiple facets to this:
Availability of trained workforce (talent capital)
Onshore/offshore/hybrid service delivery through the right-shoring model
Training and capability building through a digital learning platform
Anaptyss had recently transformed the reconciliation process for a regional community bank through a flexible commercial model, enterprise-grade center of excellence, hybrid operating model, and AI-powered reconciliation suite. The key impact areas were costs, efficiency, and compliance; the DKO-led approach saved approx. 45% of the costs and enabled review of more than 60,000 transactions in 45 days.
Want to know more about the Digital Knowledge Operations™ framework?
Please reach out to us at: info@anaptyss.com.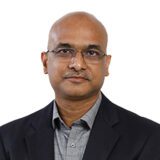 Atul Bindal
Chief Delivery Officer
Atul is an executive leader with over 22 years of experience in strategic business planning, transformation, business development, operational excellence, and talent management in the BFSI domain. His expertise spans building business functions across geographies and domains, including Retail & Corporate Banking, Lending, and Compliance.