Mortgage lending institutions face numerous operational challenges due to market volatility and policy changes, which affect demand and customer expectations. Lenders have to constantly strive to reduce their overhead costs, improve operating efficiencies, onboard and optimize the talent pool, meet the changing regulatory norms, and deliver a consistent customer experience.
One of the ways they can tackle these issues is by "re-engineering" their operating models. However, this is easier said than done because the operating model encompasses multiple facets, including the practices and processes, workforce, and tools and technologies. The efficiency and effectiveness of service delivery further depend on factors that span the back, middle, and front-office operations.
"Managed services" is an emergent operations model that can help simplify the re-engineering exercise or even obviate it based on the extent of changes. For example, a mortgage lender that wants to create or increase the capacity for a process such as underwriting or KYC can engage with a service vendor and readily scale. Sometimes, only a process component can be managed by a service vendor due to regulatory constraints or intellectual property.
Nonetheless, these mortgage-managed services can help lenders ramp up their capacity and capability across a spectrum of processes and functions. This blog explores some of the key benefits of the managed services model.
Benefits of Mortgage-Managed Services
1. Access to skilled talent
Mortgage lending companies face challenges in scaling their talent pool due to fluctuating business requirements based on market demand. With managed services, lenders can access skilled professionals and readily scale up their operations.
2. Focus on strategic operations
Managed services allow mortgage lenders to focus on their core, strategic projects while the tactical/repetitive work is delivered by the service vendor. The model can help lenders increase the value derived from their in-house teams, increasing the talent RoI and profitability.
3. Augmented delivery with automation
A tech-savvy managed services provider can offer mortgage lenders the benefit of process automation by deploying intelligent digital solutions such as Robotic Process Automation (RPA) and intelligent document extraction. Combining human talent with automation can augment overall efficiency and reduce costs due to wasted efforts or slow production.
4. Predictive analytics
Managed service providers with data analytics capability can help mortgage lenders derive insights from the unstructured datasets that hold valuable information about customer preferences, market trends, competition, etc. These insights can allow mortgage companies to arrive at optimal pricing and engage customers by serving personalized experiences.
5. Faster turnaround time and quality
Managed mortgage services can help lenders attain delivery excellence through increased speed-to-market, accuracy, and accountability. Further, they can help lenders improve the overall service quality and customer experience through integrated quality control frameworks.
Managed Services for Mortgage – The Digital Knowledge Operations™ Approach
The Digital Knowledge Operations or DKO™ framework offers managed services and talent solutions to transform the delivery capabilities in the banking and financial services industry. The right-shoring model available with DKO allows mortgage lenders to leverage managed services and deliver services on their preferred shores. Availability of global, scalable talent capital is another major offering with the DKO-based solution approach, which allows lenders to acquire market-ready skills and capacity.
Here's a case study that outlines the application of the DKO-led managed services model to increase the efficiency and productivity of a US-based mortgage lender. Aside from implementing digital solutions, Anaptyss had implemented a dual-location scalable staffing model to meet the fluctuating demands.
Want to learn more about our managed services for your mortgage lending business?
Write to us: info@anaptyss.com.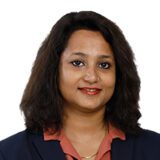 Alka Jha
Associate Director – Mortgage
Alka is an experienced professional in the mortgage lending domain with rich exposure to operating and managing across diverse functional areas such as quality and process.